Wieden and Kennedy
Wieden and Kennedy's Oregon Tourism Board Campaign for 2006-2013 renewal of sports action ambassador Erin N. Calmes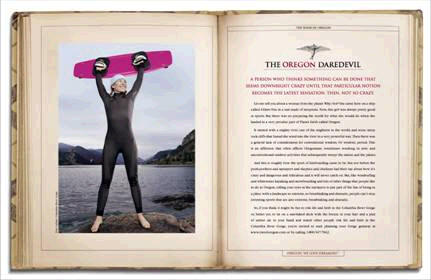 Hewlett Packard Commercials
Keta Films' Erin N. Calmes is the principle sports action model in three Hewlett Packard spots. To view click on the links below. 2006
www.perazap.com/hp_commercial_portal
Whale Sharks in Dovao City, Philippines
On April 21, whale sharks were spotted along the coast in Buhisan. This is not necessarily a sign that the species is recovering due to a ban on the killing of them for their fins. As many world wide whale shark locations saw a decline in the return of local migrating sharks. However it is interesting that they are resurfacing this season. This researcher believes their appearance may be related to warming water temperatures.
Keta Films is managing event production.
Focusing on location design and multi-media and mobile marketing programs featuring live music, camera projections.
National Geographic
National Geographic is now airing The Whale Shark Hunters Staring William Shatner in 150 countries. Check out NationalGeographic.com for dates and times.
Protect Sharks
Keta Films returns to Mexico for The Search for Nacho the Whale Shark. Nacho and his friends return every year to feed on plankton. Keta films and William Shatner will be there to search, swim and learn more about Nacho's migration. Buy the DVD Starring William Shatner.